Meet the team …
We are a group of experienced professionals who've come together to offer our clients a full range of freelance services in the areas of Graphic Design, Web Design, Web Development, SEO, Advertising, Copywriting and Illustration.
Brian Magar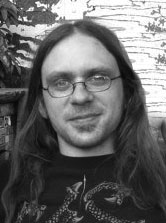 Graphic Design, Web Design, Multimedia & Flash Guru
Brian's expertise in interactive media, combined with over 10 years of graphic design experience, guarantees he will deliver more than just a website – he gives his clients a full-blown experience.
Brian has a passion for all things heavy-metal and worked freelance for over 12 years formulating flash-based mp3 players, animations and artwork for Century Media Records. His experience doesn't stop in the music industry though. Brian's clients have run the gamut, from Real Estate, Automobile and Food, to Greeting Cards, Skateboards and Technology.
On his days off, you will find Brian in a dark room, devising his next genius creative masterpiece with Iron Maiden playing in the background.
Chuck Foster
Copywriting, Creative Writing, Screenplays & Reviews
Chuck began writing professionally in 2002, when he randomly submitted some pieces to The New York Waste. Since then, he has been regularly published as a music reviewer/interviewer for such nationally distributed publications as The Big Takeover, Under the Volcano, Horror Garage and Fear and Loathing in Long Beach, as well as contributing liner notes, band bios and press releases for the likes of The Repercussions, The Turbo ACs and Ripping Records, respectively. Jello Biafra, Buzz Osborne of The Melvins, Sky Saxon of The Seeds, Paul Lemos of Controlled Bleeding and Chris Ashford of What?, Iloki and Wondercap records rank among his diverse interview subjects.
Chuck has also co-written two screenplays with director Christian Ackerman, the latest of which, Hell's Belles, won 1st place in the Zed Fest 2012 Feature Screenplay Competition. He attributes his success as a writer to his keen grasp of the English language, a subject that fascinates him to no end.
When not furiously typing, Chuck enjoys homemade Flash video games, obscure foreign horror movies and recording unlistenable racket on an antiquated 4-track tape recorder.
Rebecca Magar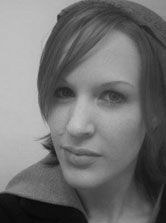 Graphic Design, Web Design, Illustration & Front-End Development
Rebecca's passion for illustration was the catalyst that led her to the field of graphic design. A self-starter, she applied herself to learning CSS, HTML and Javascript, quickly assuming the title of front-end web developer. With over 10 years of experience in all of the above, she could be referred to as an expert in diversity.
Rebecca has extended this diversity to her career by working on a variety of projects including employee solutions for Microsoft and Bank of America, small-business websites for Duncan Plumbing Solutions and South County Brewing Company – even album illustrations for local bands.
When she has a free moment, you'll probably find Rebecca contemplating the meaning of life and Leonard Cohen songs while repairing a broken washing machine. If projects are sparse, she will be watching a documentary, blogging, or painting death.